Areas of use:
Although widely used throughout Europe, the Victorian style is also very popular in America. Cities such as New York, Boston, New Orleans, Richmond, Louisville and all the way out to San Francisco have many houses and buildings that were built during or to represent the Victorian Era.
Characteristics:
Both the roofs and windows of buildings are the staple of this era. The roofs are steeply pitched and quite complex. They provide a sense of interest with a number of different aspects such as, gables and dormers. The windows are very grand in fashion many of them featured curved glass. Bay windows tended to be the focal point of the entire house. The windows were then juxtaposed with very plain and simple surrounds, drawing even more attention to them.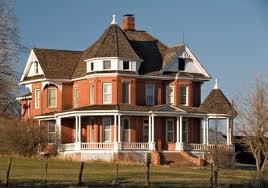 Victorian style houses usually had a large wraparound porch that may or may not be framed my decorativecolumns. Many houses also have second story porches which led to a higher sense of grandeur and class.
Many houses also have towers (popular in Queen Anne style homes). These towers came in different shapes: round, square or polygonal. These towers were placed on the roofs to add more height and make them more visible from a distance.

Materials:
The materials used in construction would usually vary depending on the region and the tastes of the designer. Patterned brick or stone led to a more traditional look, but many of the houses were built out of wood, which could be painted in many different colors. The roofs could be made out of wood or slate shingles and sometimes clapboard. Decorative stone panels were also installed to allow variation in detail so that every house or building was not identical.

Famous Buildings: (Click for picture)

Links
References:
http://en.wikipedia.org/wiki/Victorian_architecture (1)
http://www.fredbecker.org/News%20Letter/Vict%20Arch.htm (2)
http://www.askthearchitect.org/architectural-styles/queen-anne-style-architecture (3)