Beaux Arts Architecture: (1895 - 1925)
Beaux Arts (French for fine art) is the collection of two and a half centuries of instruction under French archtiectural authority. [Académie royale d'architecture (1671–1793) and the Architecture section of the Académie des Beaux-Arts (1795— )] This style heavy influenced American architecture from 1880-1920. Baroque and Rococo art were huge influences in the desiging of Beaux buildings.
Areas of use/ Inspiration:
The style is widely spread in the United States, Canada, Franc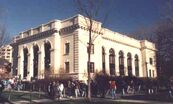 e and Australia. The first American architect to attend the École des Beaux-Arts was Richard Morris Hunt, followed by Charles Follen McKim.
Characteristics: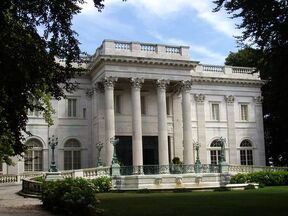 Buildings in the Beaux style usually feature a raised front story and flat roofs. Being a style very dependent on art flowing lines are also very apparent. To incorporate the flowing lines into the buildings, designers tended to install arched windows and arched doorways. These arches also tended to add a sense of height and power. Beaux style buildings are also very symmetric and there is always a high level of detail. (1)

Materials:
Favored materials in Beaux-Arts Classicism were light-colored stone and brick, especially marble, limestone, and granite. The widespread use of these light materials changed the color of a city that had been dark with brick and brownstone at mid-century. (4)

Famous Buildings:
- Vanderbilt Marble House, Rhode Island
- Grand Central Terminal, New York
- New York Public Library
- Palace of Fine Arts, San Francisco
- Carnegie Hall
- The Waldorf, New York City
Links
References:
http://en.wikipedia.org/wiki/Beaux-Arts_architecture (1)
http://architecture.about.com/od/periodsstyles/ig/Historic-Styles/Beaux-Arts.-0cU.htm (2)
http://www.brownstoner.com/brownstoner/archives/2011/02/walkabout_beaux.php (3)
http://www.nyc-architecture.com/STYLES/STY-BeauxArts.htm (4)