Arts and Crafts Movement in Architecture: (1860 - 1900)
The Arts and Crafts movement originated in England; influenced by the works of William Morris and John Ruskin. The movement was a reaction against the previous styles of designs that were a 'machinist' or 'cookie cutter' type. This new style of architecture that flourished in the thirty years following 1880 was a search for authentic design and originality. The Arts and Crafts movement eventually evolved into the more commonly recognized Craftsman or American Bungalow style. The American Bungalows were a refreshingly simple style in comparison to the grandeur of the Victorian Era houses. (2)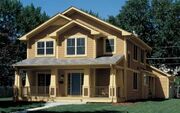 Areas of Use:
In America the Craftsman or Bungalow style houses are very well suited for warmer climates, but can be found spread throughout the nation.

Materials:
Arts and Crafts style was all about warmth and homey-ness. Natural woods were a big part of turning a house into a home. Clapboard or cedar siding was most common, as well as cedar shingles on the roofs. (4) Although in the west the trend was to use clay shingles. To add more originality to the already existing amazing carpentry, stone or brick blocks could be molded into a festive form and used to side portions of the buildings.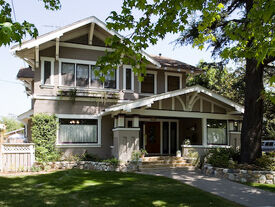 Characteristics:
Roofs were usually low pitched and had very wide overhangs which functionally blocked some of the brightness from the sun. Usually there were exposed beams and rafters to add decoration without being too over the top. The windows tended to be very simple double hung with single panes of glass. The window surrounds were also very simple. The entrance was always the focal point of the Craftsman house. A large inviting deck, usually crafted from naturally colored wood would lead to exceptionally carved wooden doors. Many porches had distinctive supporting post designs that had short square wooden posts resting on top of massive stone piers.
Another feature that made Arts and Crafts homes different from all others was the handiwork done inside the house. Most had many built-in cabinets and breakfast nooks. It was all about originality and breaking away from the formal designs that were used in the past. (1)

Famous Arts and Crafts Movement architects
- Phillip Webb

Links

References:
http://www.askthearchitect.org/architectural-styles/american-bungalow-style-houses (1)
http://en.wikipedia.org/wiki/Arts_and_Crafts_Movement (2)
http://www.orangerealty.com/white/listings.html (3)